Staying safe in the sun
During the summer months as the sun continues to shine it's very important to remember some basic tips to keep safe in the sun. These tips should be followed by people of all ages.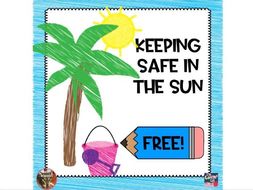 Tips for keeping safe
Sunburn can increase your risk of skin cancer so it's very important to avoid letting the skin burn. Sunburn can be avoided by:
Using suncream
Suncreams SPF should be at least 30 to protect from UVA
Suncreams should also have at least a 4star UVA protection
Avoiding the sun at it's peak times 11am-3pm
Cover your skin with suitable clothing to avoid burning
Sit in the shade
Take extra precautions with kids
Wear sunglasses to protect your eyes from sun damage
Also be aware when applying suncream you must cover the skin with a good amount of suncream, if it is too thinly applied the suncream will not protect the skin. Also suncream can wash off when in water, sweating, or if rubbed with clothing or a towel for example. Suncream should be regularly applied especially if you've been in the water or possibly rubbed it off. Even if the suncream is water-resistant it is still best to reapply to ensure you are still protected.
Don't dehydrate! Sitting in the sun or exposing yourself to the hot temperatures can dehydrate you, it's important to regularly drink plenty of cold water to stop dehydration. Drinking water also helps to keep your skin looking healthy.
Sunburn
If you have unfortunately caught sunburn you can cool the skin with cool water from a sponge to help reduce soreness. Use an after sun cream to moisturise the burn and help relieve soreness or tingling. Painkillers can help to reduce the inflammation and ease the pain. Do not go back into the sun until sunburn is fully recovered. If the sunburn leaves you feeling unwell, badly swelled or blistered you should seek medical advice.